5-Room HDB Interior Design
Are you looking for 5-room HDB interior design inspiration for your new home? Or maybe you are planning to revamp your apartment hence you are researching for some interior design ideas? If so, we have some design tips for you.
The 5-room HDB apartment in Singapore is ideal for larger families consisting of 4-5 members. They are about 110 square meters, with 3 bedrooms. The master bed room has its own attached bathroom. There is a common bathroom, a kitchen, a living and dining area, a storeroom-cum-apartment shelter and a service yard.
Designing a 5-room HDB requires lots of planning and you must take into considerations the different needs of the people staying in the house. Here are some tips from our team of designers which you can take into considerations.
As there will be more people using the common bathroom. When planning your 5-room HDB Interior Design, it would be ideal to design this area to be as spacious as possible and functional as well. Consider installing more towel racks in the bathroom to cater to the various users of the bathroom.
Storage space is also important. Create more countertop space by choosing an oval sink. You can also install mirrors with storage behind them. This will reduce the clutter in the room. To further expand the space, consider having clear shower walls with sliding doors instead of shower curtains.
Cooking for a large family requires a lot of space and a 5-room HDB apartment usually has a sufficiently large kitchen for this purpose. Consider having an island in the kitchen as this will allow more working space for more people to help with the food preparation in the kitchen. Not only that, the island can also act as a dining table for a quick snack hence it would be good to pair it with some high chairs. When planning your 5-room HDB Interior Design for the kitchen, you may also want to consider having an open concept kitchen, that way the person preparing the food in the kitchen can still be engaged in the family's activities in the living room.
For the dining area, choose long oval or rectangular tables. Benches are good alternatives to chairs for the dining area as they can seat more people without taking up too much space.
Walk-In Wardrobe
If you have an extra room to spare, you can consider converting the room adjacent to the master bedroom into a walk-in wardrobe and using it as a room divider. This can also act as a room divider between the bathroom and your bedroom. These wardrobes may have to be custom built, so do some research and planning on what kind of shelving you require for your wardrobe.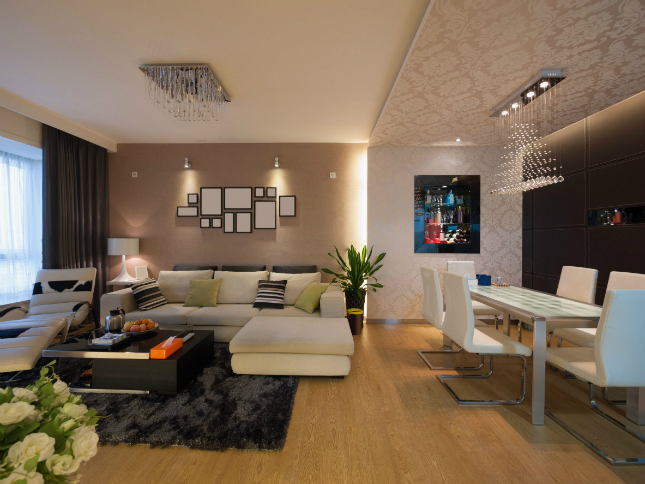 With the different rooms for the different individual, it may be difficult to apply a single design theme to fit all the rooms. As such, you may be able to only achieve a themed living room. Choose from a variety of design styles available and tweak it to fit your needs. As a general rule, the living room space should be stylish yet comfortable with minimal clutter. The living room is also a space where your guests will spend most of their time in.
Choose a design element to be incorporated to the different rooms for a more cohesive look. For example, the rooms can have the same accent colors, or similar patterns can be used in tiles or textiles across the different rooms.
Need more advice on your 5-room HDB Interior Design and renovation work? Here at Interior Design Singapore, we provide reliable and professional interior design and renovation services in Singapore with 100% satisfaction from all our client. Call us today at +65 6871 8864 for an obligation-free consultation.
Contact Us @ +65 6871 8864
For A Free Quotation and Preliminary Interior Design Consultation.