Balinese Interior Design
Bali is a very popular holiday destination for Singaporeans. Naturally, the Balinese Interior Design is also a popular style here in Singapore. We want to bring the resort feel back to our home because who does not want to go back to relax in a resort-like home after a long day at work? The design uses indoor plants, wood and other natural elements to create a peaceful and relaxed environment. You would imagine that the Balinese or resort style will be a room filled with teak accessories. While instead the style has become more modernized using clean lines and taking a slightly minimalist approach. Hence, a good and Professional Interior Designer can use this new approach when designing Balinese themed interior, without it being too overwhelming.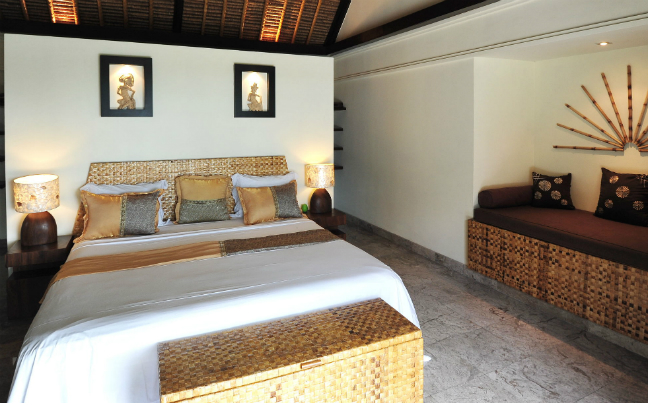 Characteristics of Balinese Interior Design – Tips on How to Achieve the Look
Colour
The Balinese style interior design colour scheme is inspired by nature. With brown as the main color, choose striking colours such as blue and red, or the pastel versions to complement it. Brown is predominantly found in the wooden furnishings. They create the atmosphere of stability and confidence. Whereas the colors bring life to the design and they remind one of flora and fauna and other nature elements. Having a colour accent wall will bring out the wooden furniture of that room without veering away from the design style.
Furniture
You can purchase some Balinese furniture and have it shipped home. Alternatively, there are also many Balinese furniture inspired furniture available in Singapore. These are mainly made from natural wood or rattan and are usually covered with a natural fabric like cotton. They are often carved with nature inspired designs like waves or flowers. For a relaxed and resort feel, choose a wooden day bed to be placed either indoors or outdoors. A beautiful style of furniture will be that of braided furniture. It is natural and durable and adds depth to the design. You can also add a bamboo screening to segregate the different areas of your room.
Textile
Keeping to the nature theme of Balinese Interior Design, the materials choose are also natural. Window treatments are kept natural with the use of either thin curtains or bamboo roll-blinds instead of the classic curtains. For fabric covers and other fabric used in the space, opt for soft textures with light or pastel colors. Instead of using a fluffy rug, choose one made of sisal.
Furnishing and Décor
The charm of Bali resort interiors is that they make one feel relaxed. This is from the combination of furniture and other decorations. The easiest way to create the open air concept indoors is to include some indoor plants. You can also add a small sculptural water feature near the entrance of your house. Consider growing some plants and have the water to be circulating to prevent breeding of mosquitoes. Opt for larger windows which allow natural ventilation. Resorts in Bali also use a lot of stone and pebbles for bathroom flooring. You can also mimic that by adding pebbles and treated timber decking to the shower. This also acts as a non-slip surface.
In the kitchen, you can have wooden bowls, bamboo place mats and woven table runners. Choose furnishings with natural designs to complete the look of the Balinese Interior Design. For example, look for ceiling fans that are palm-like or lights made of bamboo and rattan. You can also bring back some design elements from Bali. Ubud in Bali is renowned for art and you may be able to bring back to Singapore some Balinese artwork. Alternatively, you leave it in the hands of your Interior Designer to help you hunt for these Balinese accessories.
Contact Us @ +65 6871 8864
For A Free Quotation and Preliminary Interior Design Consultation.