Kitchen Design
A good kitchen design will ensure the efficiency and safety of your cooking experience. First, understand the various type of kitchen layout that is commonly seen in most Singapore's apartments and houses.
L-Shaped Kitchen
It is a popular layout that integrates both the cooking and entertaining space. You can plan to add an island in the middle for extra preparation and storage space when drafting the interior design of the kitchen.
One-Wall Kitchen
All the counter-tops and appliances are lined on one wall. This type of kitchen is commonly found in apartments with limited space. Consider using smaller appliances to maximize the working space.
Galley Kitchen
This kitchen design is the most common type found in most HDB flats in Singapore now. There are two parallel counter-tops with a walking area in between. The space can look a bit cramped so use glass-front cabinets to create the illusion of a more open space.
After determining the layout of your kitchen, we can then work around the design elements to see how it can fit into your kitchen space.
Tips on Creating Your Perfect Kitchen Design
Colours
Choose light colours to expand the space visually. Use a light colour palette for counter-tops and walls. You can also add in patterns on the floor with tiles. Consider chevron wood-floor patterns to add an interesting dimension to the space.
Lighting
Lighting is very important in the kitchen. It is not ideal to have the light source behind you when you are working on the counter-top as it would cast shadows on the work surfaces. Consider installing under cabinet lights to eliminate shadows while preparing your food.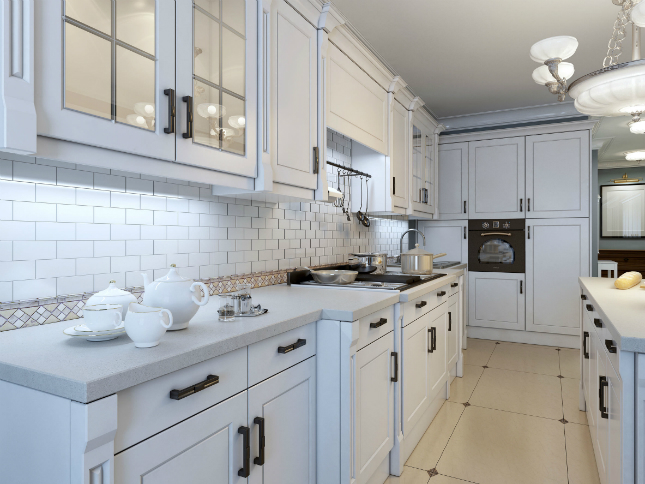 Storage
Plan for ample storage space when planning your kitchen design. Use every space available and create a storage system which allows you to make use of these spaces. Have multi-tiered drawers for cutleries and utensils. Pull out drawer shelves and Lazy Susan are good elements to have. Plan to have a few deep drawers to store pots and pans in thus freeing up space on the counter-top. You can also have the cabinet all the way up to the ceiling to eliminate the awkward space between the ceiling and your cabinet which may tend to accumulate dust and attract pests. Consider installing a few open shelving to open up the space. Besides being a visual design element, it can also be functional as it is easier to access dishes that are used frequently.
Functionality
The kitchen is a working space where functionality of the space is essential. When planning the kitchen design, consider having wide walkways to accommodate a few people. For example, a 40 inch wide walkway for a one-cook kitchen or a 45-inch for a two-cook kitchen. You also need to plan for the placement of the appliances in the kitchen. Ensure there are no obstructions of doors even when operating two appliances at once. Take into considerations the placement of appliances with access to power sources. You can consider power strips that run across the walls above the counter-tops. This will allow ease and flexibility of using your appliances anywhere in the kitchen. If you have kids in the house, also consider their safety. Knives and other fragile dishes should be kept away from their reach. You can also have some shelves where kids' utensils or snacks are placed so they can have easy access to them.
If you need more professional advice on the interior design or renovation for your new home in Singapore, feel free to contact us at +65 6871 8864 to arrange for an obligation-free consultation with one of our Project Managers.
Contact Us @ +65 6871 8864
For A Free Quotation and Preliminary Interior Design Consultation.