Living Room Design
The living room acts as a showcase of your home and also the main area where you entertain your guests. The design of the living room will also reveal the owner's unique personality and aesthetic preferences. Although residential home is getting smaller in densely-packed cities such as Singapore, it is challenging but certainly possible to create a cozy and comfortable living room where you and your family can gather and relax. Here are some interior design tips to help you create the perfect living room for your home. 
Living Room Design Tips
Open-Plan Layout Living Room Design
The open-plan living room design is becoming more popular amongst homeowners in Singapore as available living spaces get smaller with the rise of property prices. Open layout does away with small enclosed rooms and frees up more spaces for use.
Benefits of an Open-Plan Living Room Design
Gives a sense of airiness
Allows more flexibility in space planning and interior designing
Facilitates more interaction and together time for the family members with less walls between them
One could be in the kitchen cooking while engaging in a conversation with those relaxing in the living room
With less walls to obstruct the flow of natural light, the living room will also appear brighter
The use of more natural lights also reduced the need for artificial lighting thus saving on electricity spending
Living Room Lighting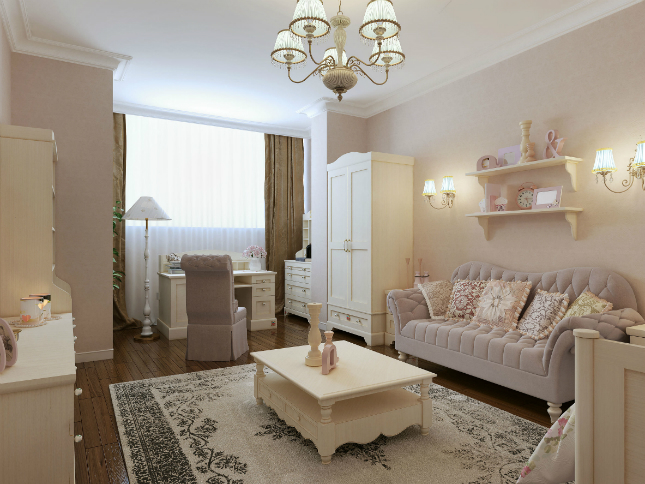 Many overlook the importance of lighting in the living room design. Lighting helps create the ambience for the space. Choose a general ambient light as the main lighting of your living room. It can be in a form of a chandelier over the sofa or some pendant lights over the dining area. Next, choose accent lighting such as recessed adjustable lights which can point to a wall art or something you want to feature in the room. You can also choose some floor lamps to be your task light. Task lights are can be used when you are reading or working. If you have the luxury of space, you can also consider some decorative lights such as table lamps. They add character to the space and amplify the theme of the room.
Wall and Furniture Colour

In most cases, a neutral colour scheme is preferred for the living room as it is a space which links to the other areas of the house. Thus, a neutral colour will also match the various different themes you may have for all your other rooms. Warm shades tend to be cozier and more inviting whereas colours with cool undertones will exude a more modern feel. Having a neutral colour for the walls will also allow you to have more flexibility and options in your choice of furniture. On the contrary, if you prefer light-coloured or neutral-hued furniture, you can opt for a more vivid hue for your walls. Either choose the same colour to be painted on all walls or have just one accent wall in a bolder colour.
Living Room Furniture
As the living room is a place where you lounge around to unwind and relax, selection of appropriate furniture for your needs will be a critical factor in creating a comfortable and functional space. When choosing or arranging furniture, bear in mind that the design and arrangement of the furniture should facilitate interaction among the users of the space. Furniture may not need to be leaning with its back against the wall, you can arrange them to face each other instead.
When planning your living room design, you can divide the living room space into several sections. For example, there can be an area for kids to play with their toys while the adults enjoy some tea and snacks near the sofa. This will allow people to gather in small intimate groups while engaging in different activities.
Looking for Interior Design and Renovation Services in Singapore to assist in your living room makeover? Call us today at +65 6871 8864 for an obligation-free consultation.
Submit Your Floor Plan and Get a Quotation from Us!