Country Cottage Interior Design
Country Cottage interior design is also known as Cottage style or Country style interior design. It is a design that focus on the theme of relaxation and exudes a laid-back attitude. Hence, it is one of the more popular interior design style preferred by young homeowners in Singapore.
Cottage style design emphasizes coziness and homeliness with a deep relationship with wood. It embraces imperfection while at the same time balancing both past and present through its combination of both weathered pieces with new simple pieces.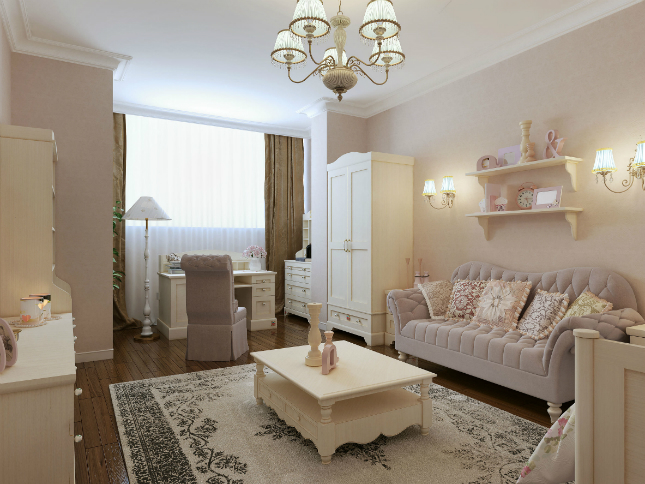 Characteristics of Country Cottage Interior Design – Tips on How to Achieve the Look?
Colour
Choose soft, muted colors such as dusty pink, barn red and faded green. These are often lightened up with white and ivory. Some bright colors can also be added to the Country Style, as long as they are along the neutral lines.
However, for the French Country interior design, bolder colors should be used. Cobalt blue, bright grass green, dull grey, sunny yellow are some of the colours commonly seen in French Country design.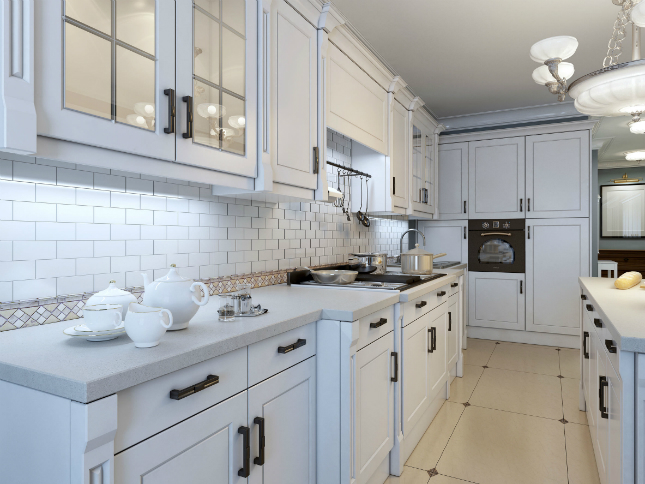 Furniture
Wooden furniture brings out the country vibe. Golden wood such as maple, pink and oak complements the colour palette. The worn out look is very common and these can especially be found in secondhand furniture. They are sometimes painted to mask its imperfections. To create the shabby-chic look with new furniture, it can be lightly sanded to create the impression of age. This allows one to combine the use of old and new pieces seamlessly.
In the kitchen, open shelving emphasizes the country look. However, it can be impractical for cleanliness and requires frequent dusting. Hence, a simple solution is to have the shelving behind glass doors.
In the dining area, choose a large dining table with low sheen finish and paired it with chairs that have vertical slats.
Textile
Opt for natural fabrics such as cotton, linen or canvas. Floral printed fabrics can be paired with stripes and solids to create a more layered look. Handmade and woven textiles, such as quilts and rugs, can be added to emphasize the country look.
For a more modernized look, select fabric with graphic patterns and colors. Lace and eyelet can also be used for textile products such as table cloths and curtains for a more elegant look.
Finishing and Décor
Handmade accessories such as baskets, pottery and hand forged metal accents will be ideal as finishing touches to complete the look. You can continue the distressed look with antique mirrors and other vintage flea market finds.
Vases with wildflowers can be used to decorate the home. The idea is to bring the textures and look of nature into your home.
Architectural elements such as raw wood distressed ceiling beams, stoned tiles and timber flooring also bring out the country look. Earth-toned or classic black and white tiles can be used in the kitchen floor.
Different Country Cottage Interior Design Style
After understanding the key characteristics of the Country Cottage interior design, let us explore the different variations of this design. This will help you determine which of the style variations of the design that appeal to you most.
English Country Cottage Interior Design
This design focuses more on practicality. The color palette used is more of pastels and neutral colors. The furniture is more intricately designed, which is the main difference from other styles.
French Country Cottage Interior Design
It has a more elegant and rustic look with a more vibrant color palette being used. Furniture and other design elements are mainly distressed, such as rusted furniture and lighting.
American Country Cottage Interior Design
This look is mainly that of simplicity, comprising of clean lines. The wood used is mainly uncolored and unfinished.
The elements of the above styles are combined to create a unique country style while at the same time keeping the design simple and cohesive. The
American and French variations appealed more to modern couples in Singapore as design is simpler and less fussy unlike the English style which requires more intricate carpentry works.
Whichever the Country Cottage interior design style that appeals to you, here at Interior Design Singapore, we provide Professional Interior Design Services can help you achieve the look you have always dream of for your home.
Contact Us @ +65 6871 8864
For A Free Quotation and Preliminary Interior Design Consultation.